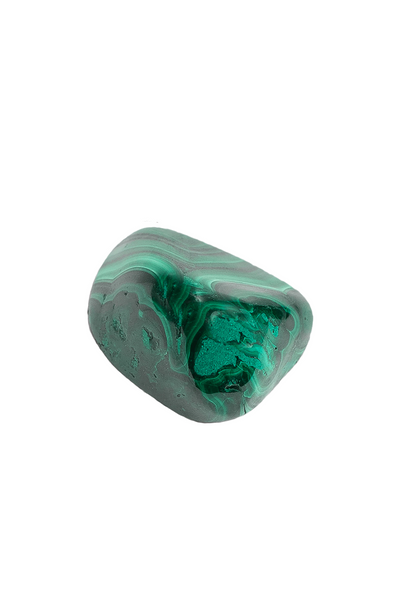 Kacha
Ethically Mined Malachite
If you are longing for change, the frequencies of the Malachite are here to guide you.
Malachite is an important protection stone that is believed to absorb negative energies and pollutants, picking them up from the atmosphere and from the body. This means that you can use the stone to balance your emotions and help you to work on a positive outlook on life. It will also help to open your heart to love and positive vibes – allowing you to love more freely and take risks in life that are good for you. Malachite is a stone of transformation, assisting one in changing direction. It clears and activates the chakras, attunes to spiritual guidance and stimulates dreams.
Physical abilities

Malachite is a stone to balance mood swings and heal cramps. Many believe that Malachite resonates with women and their bodies and is used to help with regulating monthly periods and the cramps that can come with your period. It can also be used to ease the pain of labour and is often called the Midwife Stone.
You can also use Malachite if you want to boost your immune and nervous systems or lower your blood pressure. It is believed to treat asthma, arthritis, epilepsy, fractures, swollen joints, growths, travel sickness, vertigo, tumours, the optic nerve, pancreas, spleen and the parathyroid. Malachite stimulates the liver to release toxins.
How to use Malachite?

By carrying the stone with you, and incorporating it into your space, you can open your heart to love and transformation in this realm of your life.
To break negative patterns of behavior, speak your fears and sorrows aloud daily as you hold the crystal, then, leave it in a sheltered place outdoors overnight to carry away the fears.
Place a piece of malachite on your heart chakra to open emotional blockages and clear away defensive energy.
Approx. size: 20-30mm
Chakra: Heart & Throat

Star sign: Taurus, Scorpio, Capricorn

Note! Due to the nature of crystals, all tumble stones will vary slightly in shape, size, colour and pattern. These products are not intended to diagnose, treat, cure or prevent any disease. The results are the sole responsibility of the wearer.