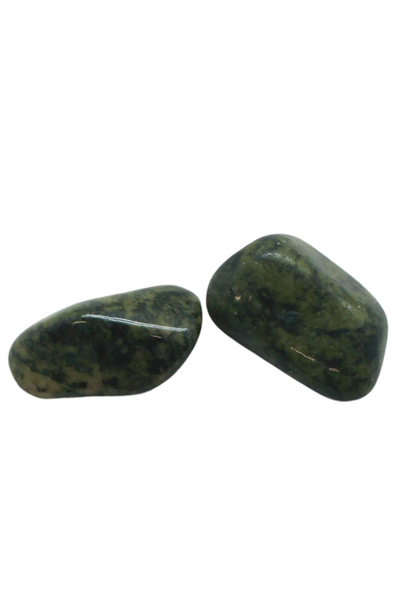 Kacha
Ethically mined Nephrite Jade
Nephrite Jade is considered the most precious form of Jade. It has extremely strong protective, Guardian energy and you should carry such a stone at all times when outside your home. It has served mankind across the globe for nearly 6,000 years and for centuries, cultures all over the world held similar beliefs on this crystal's ability to bring good fortune and beneficial results. Jade is said to bless whatever it touches

This stone can be used to change our mind, when necessary about anything. It reminds us to think positively and stay focused on good outcomes. It is also said to be helpful for visualising ideas, promote self-sufficiency, releases negative thoughts and soothes the mind. It stimulates ideas and makes tasks seem less complex so they can be acted upon. Jade is believed to assist in learning to enjoy the physical life and remind us to smell the flowers, touch someone we love, and share our abundant heart with others.

If you feel pulled in by Jade's energy, your spirit is likely looking for direction and awakening. Jade is the guidance your spirit needs to understand the big-picture, and then open yourself up to those new experiences. Tap into your inner wisdom and learn to receive what comes your way. Design the life you are meant to live.

Physical abilities
Jade is believed to be a cleansing stone helping the bodies filtration and elimination organs. This stone supports the healing of hip and kidney problems. Jade brings out your innate healing abilities. It is a gentle healer that boosts your body's self healing powers. It helps to resolve emotional or spiritual problems that may be lowering physical resistance. It is effective against lung, eye, bladder and kidney problems, fluid retention and blood-sugar imbalances. It helps to relieve arthritis and bone, joint pain or stiffness, especially of the hips. Green Nephrite Jade is a powerful physical heart healer. It also helps strengthen and soothe the nervous system.

How to use Jade?

- Use your jade to connect with your heart when designing a plan to begin healing. Ask yourself: What matter of the heart do I need to start healing? How can I make that happen? Make a plan and place your stone on top of it.

- Jade is thought to attract good fortune and prosperity to the home and workplace. At work, have jade in your pocket or on your desk when you are negotiating or trying to attract new business. Jade is also said to help us keeping our minds sharp if other people are blinding us with facts and figures.

- Jade is said to be the ultimate "Dream Stone". If placed on the forehead, jade is thought to bring insightful dreams, give access to the spiritual world, gain insight into ritualistic knowledge, encourage creativity, and dream-solve.

- Due to its strong association with ancient China, Jade is the perfect stone for connecting more deeply with Eastern philosophies and cultures for spiritual development. Jade is also revered by the Mayans and a useful stone during rituals, ceremonies or as an altarpiece for prayer and meditation.

- Green Jade provides Wood energy which is traditionally associated with the East and Southeast areas of a home or room. It is associated with the Family and Health area and the Prosperity and Abundance area.Wood energy is vital to your well being. It is associated with family, ancestors, and community. Use this Jade in the East area of a room or home if you want to keep Qui, the Universal Life Force flowing properly there.

Approx. size: 15mm
Chakra: Heart
Star sign: Taurus, Libra

Note! Due to the nature of crystals, all tumble stones will vary slightly in shape, size, colour and pattern. These products are not intended to diagnose, treat, cure or prevent any disease. The results are the sole responsibility of the wearer.