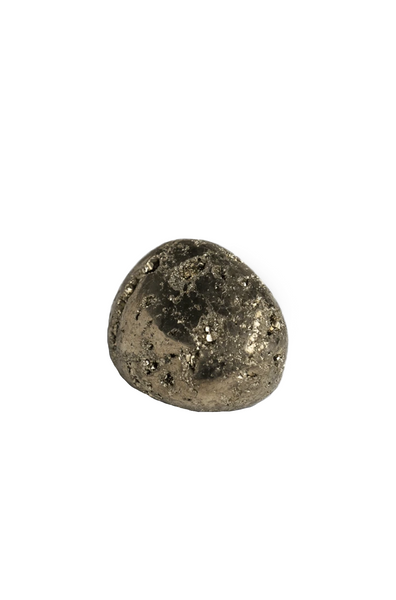 Kacha
Ethically mined Pyrite
Due to its reflective nature, Pyrite holds a strong protective energy, deflecting any unwanted energy. It has been highly prized and used by wisdom-keepers since ancient times. In addition to attracting wealth, abundance and good luck, it is believed to hold a strong protective energy. Ancient civilizations often wore it as a protective shield since its mirror-like quality repels and reflects any unwanted energy back to its original sender. With a Pyrite stone by your side, your aura and energy is shielded against negativity.
Pyrite seems to set the spirit on fire – in a good way! It rekindles any lost drive or distant passion and makes you feel like you are ready to embrace life once again. If you have been tangled up in depressive thoughts or residing in anxiety, Pyrite is here to help you step away from those thoughts and fears, to overcome all that is holding you back, and to take action to live the life you were born for. Connect with this stone when you want to discover your gifts and be seen by the world.
If you feel pulled in by the energy of a pyrite stone, you are ready to harness the pyrite meaning of prosperity and abundance. Whether you're looking for more abundant relationships, finances, or career success, this stone will help you attract the abundance you desire in different areas of your life. You may also be attracted to pyrite stones if you seek energetic protection. Like a bodyguard, pyrite wards off negativity and bad vibes so your energy field can remain clean and clear. If you need help shielding unwanted energy from your aura, pyrite is your ally.

This mineral is also very powerful when it comes to manifestation. Meditating with a piece of Pyrite, or simply carrying around a stone daily can have a dramatic effect on your life.

Physical abilities

It is said to be beneficial for the lungs, to help asthma and bronchitis, and to increase your stamina. It is a strong stone to aid inflammation and can confer a speedy increase in strength and vigor.  It is also said to help one alleviate tiredness and fatigue, as it increases the oxygen supply to the blood, and to invigorate the circulatory system.

How to use Pyrite?
Pieces of the stone are very effective when worn in the pocket or as a bracelet, especially in the area close to the sacral or solar plexus chakra. The important thing is to keep the stone within your aura.

It is one of the crystals for nightmares as it is said to prevent nightmares, so it may be advantageous to keep a piece of this stone near to you or your children while you are sleeping.
It is also said that Pyrite may help to stop snoring, so it may be of value to put a piece under the pillow to enhance your sleep.


Chakra: Solar plexus
Star sign: Leo
Approx size: 20-25mm
Note! Due to the nature of crystals, all tumble stones will vary slightly in shape, size, colour and pattern. These products are not intended to diagnose, treat, cure or prevent any disease. The results are the sole responsibility of the wearer.

---